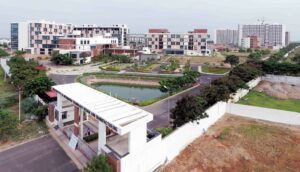 Indian Institute of Information Technology Design and Manufacturing Kancheepuram (IIITDM Kancheepuram) is an Institute of National Importance established in 2007 by the Ministry of Education, Government of India to pursue design and manufacturing oriented engineering education and research and to promote the competitive advantage of Indian products in global markets.
It is one of the two IIITDMs, the other one being located in Jabalpur. The institute, which was operating from its temporary campus within the Indian Institute of Technology Madras, which was also its mentor institute, has moved to its permanent campus at Kelambakkam-Vandalur road near Chennai in 2011. The institute offers academic and research programs that integrate engineering design, manufacturing, and management with information technology. The institute offers undergraduate and postgraduate programs that focus on IT, design, and manufacturing in engineering sectors.
The institute is located on a 51-acre campus on the outskirts of Chennai, off the Vandalur-Kelambakkam road. It is a fully residential campus with all students residing within the campus. The campus houses the academic block, the administrative block, the lecture hall complex, and the laboratory block.
The Institute is presently offering B.Tech programs in Computer Engineering, Electronics and Communication Engineering (Design & Manufacturing) and Mechanical Engineering (Design & Manufacturing), 5 Dual Degree Programmes leading to B.Tech and M.Tech Degrees, M.Des in Electronic Systems Design, Communication Systems Design, Mechanical Systems Design, and inter-disciplinary Ph.D. programs in core and applied areas of engineering. From the academic year 2016, the Institute will introduce the B.Tech Mechanical (Smart Manufacturing).